Workers' Compensation and Claims Management
When one of your valued employees is injured, it's reassuring to know you can count on Advantage First Insurance to assist you. With over 82 years of experience in Workers' Compensation, we know what to do in any given situation. Our team of experts can act promptly to take the steps needed to handle any claim.

A successful Workers' Compensation program begins and ends with aggressive Claims Management. Advantage First Insurance has several Workers' Compensation Claim Management Specialists on staff who can act as your advocate with the insurance company to ensure that claims are handled in accordance with our specific protocols.

Summary of Services:
Schedule and attend open file reviews to go over open indemnity cases, face-to-face
Review the plans of the claims administrator on all open indemnity cases
Scrutinize reserves prior to the unit statistical filing, and prior to renewal
Report an objective summary/status of open indemnity cases to the client
Project the next experience modification post unit statistical filing
Review the injury program at the client's location (i.e., to separate first aid)
Be on call for the client regarding Workers' Compensation claim inquiries
Enhance return-to-work (RTW) efforts
TPA selection process — includes developing the RFP and timeline, sending out RFPs, analyzing the responses, conducting the interviews, selecting the TPA, and negotiating the contract
E&O claim audits — auditing claims to identify poor claims handling practices that have resulted in a financial impact to the client and quantifying that financial impact
HCO feasibility study and implementation — assisting the client in understanding whether or not the use of an HCO will aid in the medical control and RTW issues
Unfortunately, most insurance companies today are not adequately staffed. Workloads have increased to a level in which proper attention to claims is nearly impossible. All too often, the result is an adverse claim resolution, which ends up costing you, the employer, more in premiums due to an increase in your Experience Modification factor.

The Advantage First Insurance Claims Management staff manages this process for our clients. Our goal is to ensure your Workers' Compensation claims are handled by the insurer's best Claims Adjusters and that each claim is handled promptly with the most favorable resolution, resulting in the lowest possible cost to the employer.

Workers' Compensation Cost-Reduction Guide Book

"Workers Compensation Management Program — Reduce Costs 20% to 50%"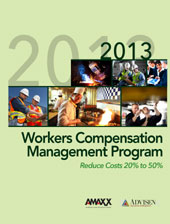 If you've never heard of an "off-site return-to-work program" or a "pharmacy benefit management program," this is the perfect tool for you!
"Workers' Compensation Management Program — Reduce Costs 20% to 50%" is a 200-page guide that helps risk managers control costs. This is a hands-on, practical tool, written by a national expert on Workers' Compensation cost containment — one with over 25 years of experience helping companies reduce losses by as much as one-half.
The guide takes readers through each aspect of a Workers' Compensation program, teaching them, step-by-step, a variety of techniques to help organizations reduce Workers' Compensation costs. Hard-hitting content, based on extensive field research, shows risk managers, agents and brokers how to help their company/clients achieve greater levels of efficiency and save money.